Child Development Programs offers our volunteers opportunities to learn new skills, engage with clients, form new relationships, and have fun! We have adult and student volunteers, as well as co-op students to help in many aspects of delivering services to children and their families. There are opportunities to volunteer for the Preschool Speech and Language, Infant Hearing, and Blind Low Vision programs.
Volunteers bring fresh ideas, knowledge, and life experiences to our programs. They may be high school students, college students, university students or graduate school candidates as well as professionals, retiree's or families.
New volunteers with the Child Development Programs are provided with an orientation and guidance to perform well in their role with our program, and to get the most out of their volunteering experience. It is important to us that our volunteers are provided with a meaningful and enjoyable experience.
Volunteers with the York Region Preschool Speech and Language Program may assist staff with a wide variety of activities, projects, and tasks. They can co-ordinate and prepare materials for intervention, assist with treatment sessions and parent education classes, and carry out day-to-day office needs and administrative tasks. Volunteers with the Blind-Low Vision Program are able to provide teams with administrative support. Infant Hearing Program volunteers may have a chance to interact with families during newborn hearing screenings or audiology visits and provide support to the program through help with various administrative and office tasks.
Programs operate from Monday – Friday, from 8:30/9:00 am to 4:30/5:00 pm. The York Region Preschool Speech and Language Program has 7 sites located throughout York Region. The Blind Low Vision and Infant Hearing Program volunteers typically work out of Oak Valley Health, or at one of the sites.
Oak Valley Health's volunteer policy requires that you volunteer for more than 60 hours if you require a reference for the Masters in Speech and Language Pathology. It is recommended that you request a letter of reference from the Speech and Language Pathologist in the office you support.

Application Process
Click here for more information on how to become a volunteer
Please note: there is usually a wait list for enrollment with our programs. Your application will be kept on file for one year and you will be contacted once a vacancy becomes available. All applications are reviewed. However, due to the volume of applications, only those selected for an interview will be contacted.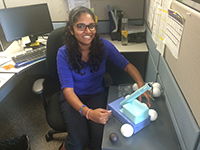 I really enjoy working with the children and their families at YRPSLP. I am constantly gaining new experiences because every child is so unique. I am able to contribute my ideas and create new resources and activities that I know will be used in a meaningful way.

Jahnusha Shriraam