This section contains information and resources families may find helpful in relation to preparing their child for school.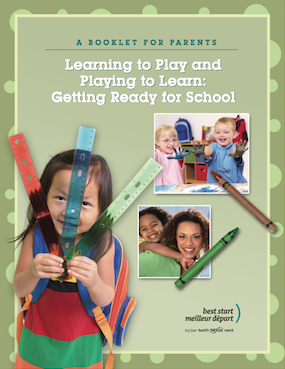 Best Start: Ontario's Maternal Newborn and Early Child Development Resource Centre has resources available for families and professionals. Many of their resources are available as free downloads including the booklet: Learning to Play and Playing to Learn: Getting Ready for School.
Learning to Play and Playing to Learn is a parent resource based on the research of what,
how, and when your child learns. This booklet is filled with information, tips and other resources

Ontario Ministry of Education "How can I prepare my child for starting kindergarten?"   Offers information and tips to families with children who are preparing to enter kindergarten.
The York Region Preschool Speech and Language Program offers service to qualified children up until they are eligible for kindergarten.   By planning ahead, you can make the change or transition from preschool to school go smoothly.
The Eye See…Eye Learn® program is available to children that are in any junior kindergarten program. If required, Eye See…Eye Learn® will provide one pair of prescription glasses at no cost.